---
Background
Materials with unique architectures that can absorb significant amounts of energy from high strain rate impacts are needed in many applications from aerospace or automotive applications to sports or personal protective gear. Ballistic and other high strain rate impacts often present detrimental damage to multiple structures. Penetration or shattering of the underlying structure in these impacts can be catastrophic. Coatings applied to add an extra layer of protection do not protect well against high impact forces. Solutions that include inorganic particle coatings offer some energy absorption. However, in the case of high strain rate impacts, more damping and energy absorption are needed.
Current Invention
Prof. David Kisailus and his team conducted studies of the outermost impact surface from the club of the mantis shrimp, which demonstrates incredible resistance to failure upon impacts greater than 300N of force at accelerations of more than 100,000 m/s2. This inspiration has led to the development of a material and architectural design that absorbs significant amounts of energy. The design aspects include a particle with a bi-continuous network of stiff material inter-dispersed with a compliant matrix. This designed particle, upon high strain rate impact, will undergo deformation, yet maintain high stiffness.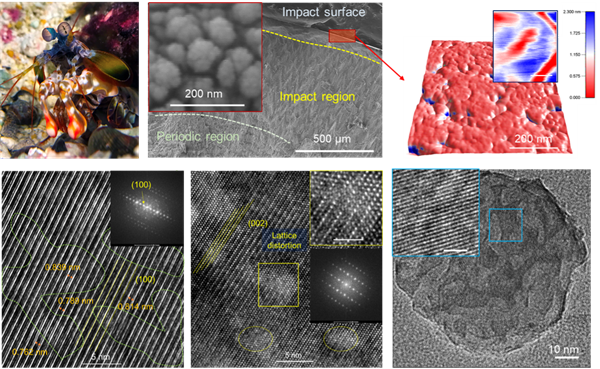 Nanoparticles on the impact surface of the mantis shrimp dactyl club (Upper images). Lower left and middle high resolution micrograph showing protein and chitin organic phases interpenetrated with a hydroxyapatite network. Lower right showing inorganic network after high temperature treatment, indicating intact and porous framework of the hydroxyapatite phase.

Energy dissipation mechanisms of the bicontinuous particles. Left and middle micrographs show particle breakage and fiber bridging after high strain rate impacts. Right high resolution micrographs show dislocations and amorphization induced by impacts.
---
Background
Current protective coatings or materials are incapable of prolonged shielding and maintaining structural integrity at temperatures above 600°C and/or are made using environmentally unfriendly methods. In some applications, coatings are applied to surfaces to reduce damage through adding an extra layer of protection. These coatings are either ablative, intumescent, or thick ceramic cements. Ablative coatings cannot provide prolonged protection in hostile environments. Intumescent polymer coatings suffer from poor adherence and are environmentally toxic because of the presence of bio-accumulators such as halogens and bromines.
Current Invention
Prof. David Kisailus and his team, inspired by the fire-resistant seeds of the plant Banksia speciosa, have developed a multitude of novel structural design components that provide mechanical toughness along with thermal shielding to ensure durability and improved damage tolerance at hostile temperatures.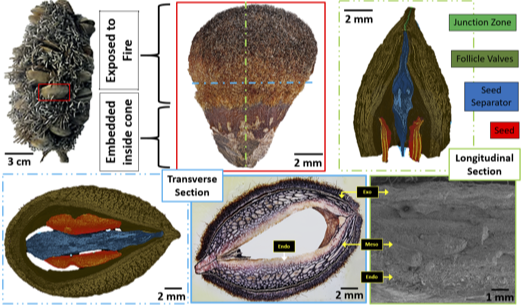 A photograph of a Banksia Speciosa cone, and its inner cross-section revealing the inner structure - the thermally resistant follicle valve, the seeds encapsulated within the follicle, and the seed separator membrane flanking the seeds.
---
Overview
Pathogenic bacteria require iron for their survival and ability to cause infection. Many bacterial pathogens have evolved sophisticated systems to use heme as a primary source of iron, including Pseudomonas aeruginosa, an opportunistic gram-negative pathogen that is a common cause of nosocomial infections and associated with high morbidity. To study the heme uptake and utilization of P. aeruginosa and other pathogenic bacteria, researchers have developed a recombinant P. aeruginosa heme oxygenase (HemO) enzyme expressed in E. coli and purified by ion exchange and size exclusion chromatography for research use.
The recombinant enzyme of the pigA gene of P. aeruginosa (PIG) was expressed in E. coli and purified by ion exchange and size exclusion chromatography. The PigAHO displays unique selectivity for a β-meso-carbon. Previously isolated HemO protein has demonstrated a preference for α-meso-carbon. Recombinantly expressed HemO from P. aeruginosa represents a new class of enzymes with novel regiospecificity.It functionally replaces HemO in N. meningitidis in vivo. This technology may be used to identify new heme metabolic and regulatory pathways to study heme controlled cellular processes such as DNA transcription, RNA translation, protein stability and targeting, and cell differentiation.
Photos
Applications
P. aeruginosa can cause severe, acute, and chronic urinary tract, respiratory, and ocular infections. It is a major health problem for immunocompromised patients and individuals with cystic fibrosis. There are an estimated 51,000 healthcare cases associated with P. aeruginosa infections per year in the US, according to the Center for Disease Control. These infections are treated with antibiotics, but approximately 13% of P. aeruginosa infections are multi-drug resistant. As antimicrobial resistance continues to increase, there is a need for novel solutions to diagnose, treat, and prevent these infections.Finding new heme metabolic and regulatory pathways aids this therapeutic effort, as heme controls cellular processes such as DNA transcription, RNA translation, protein stability and targeting, and cell differentiation. This novel, recombinant heme enzyme with unique stereo-specificity can be used as a tool to develop new compounds that can overcome current antibiotic resistance potentially.
Advantages
HemO protein with novel regiospecificity has been isolated and available to study heme oxygenase pathways in pathogenic infections.
Stage of Development
The ability of recombinantly expressed HemO from P. aeruginosa to catalyze heme degradation has been tested in vitro.
---
Overview
Left ventricular (LV) hypertrophy (LVH), most commonly due to chronic hypertensive heart disease, is associated with increased risk of developing depressed LV systolic function, heart failure (HF) and death. Routine cardiac imaging to screen for LVH in hypertensive patients is not recommended because of the low predictive value of LVH for HF. Researchers at UMB have demonstrated that the presence of elevated cardiac-specific biomarkers in the presence of LVH identifies subjects with a high risk of developing HF, particularly HF with reduced ejection fraction (HFrEF). This finding is significant because it identifies patients that would benefit from specific medical and lifestyle interventions.
UMB researchers have shown that in individuals aged 65 or older with LVH and a significant, sustained increase in NT-proBNP or hs-cTnT levels have markedly higher rates of incident HF, in particular, HFrEF. Specifically, a significant, sustained increase in the N-terminal pro-b-type natriuretic peptide (NT-proBNP) and high-sensitivity cardiac troponin T (hs-CTnT) in patients exhibiting LVH, there was a 3-fold increase in the development of HFrEF. HFerEF occurs in approximately half of the patients that develop HF and is the only form of HF that is currently treatable. This discovery allows for the first time a diagnostic to identify patients with a high risk of developing HF. Predicting HF provides, for the first time, an opportunity to modify the treatment and lifestyle of high-risk patients to prevent disease.  
Applications
The prevalence of LVH in the general population ranges from 9.1% for women and 14.9% for men, or approximately 35 million people in the US. Heart failure is considered an emerging epidemic, with a US prevalence greater than 5.8 million people. Roughly half of all people who develop heart failure die within 5 years of diagnosis. Echocardiogram is used to establish LVH, but cannot reliably predict which patients will  develop heart failure. 
Advantages
Predicts the progression to HF following asymptomatic LVH
Specifically associated with HFrEF, which can guide therapeutic interventions
Biomarkers may be developed as therapeutic targets
Stage of Development
This technology has been tested in a clinical samples from the general population and from adults without a prior history of heart failure or myocardial infarction. Additional clinical studies are ongoing.
(As of 10/2019) - MEW
R&D Required
The prevalence of LVH in the general population ranges from 9.1% for women and 14.9% for men, or approximately 35 million people in the US. HF is considered an emerging epidemic, with a US prevalence greater than 5.8 million people. There is currently no diagnostic that can be used to predict the risk of patients with LVH developing HF.
---
Overview
Early and aggressive fluid resuscitation in shock is associated with improved patient outcome and mortality. However, there is a clear correlation between cumulative fluid balance and mortality. There is, therefore, a benefit to adopting a systematic approach to fluid resuscitation to determine which patients would benefit from a fluid bolus with increased stroke volume to avoid risks associated with volume overload.
Multiple methods have been proposed to predict increase stroke volume with fluid bolus. None of the current techniques have demonstrated positive relationships or involve invasive procedures and have the potential for serious complications. Point-of-care ultrasound (POCUS) is an attractive option to assess volume status and predict fluid responsiveness. However, currently, POCUS systems are complex, required skilled practitioners and do not provide data in a format designed to guide real-time clinical decision-making. UMB researchers have described a proprietary algorithm that allows the healthcare provider to use ultrasound to more efficiently and accurately predict if cardiac stroke volume (SV) will increase with fluid bolus. The proprietary technology is called combination arterio-venous sonography (CAVS).
The CAVS algorithm uses several measurements that can be readily obtained by POCUS to estimate SV. The algorithm was derived from The Volume Responsiveness Study that was an observational study of 138 patients receiving a fluid bolus. Patients who responded with an increase in SV were identified (+SV). The ability of the algorithm to predict the +SV patients from the study was analyzed using statistical analysis (Receiver Operating Characteristics (ROC)). The training receiver operating curve (ROC) showed that the algorithm ability to accurately predict (identify) +SV was excellent at 0.90 (p <0.0001). ROC of 1.0 represents a 100% sensitivity and 100% specificity for the algorithm.  The model performed incredibly well in validation testing, maintaining and ROC of 0.77 (p <0.0001). The results of this work have been accepted for publication in The Journal of Trauma and Acute Care Surgery.
Applications
POCUS is a $700 million dollar market with a 7-8% annual growth rate. Currently, there are no other significant applications designed to assist in using POCUS to direct care of critically ill patients. Widespread adoption of POCUS to make critical treatment decisions is limited by the skill of individual practitioner at evaluating POCUS images and by the fact that the assessment is subjective. The utility of the POCUS is limited by lack of software for quantification, diagnosis support, and clinical decision-making. The POCUS market is expanding despite these limitations, as units are very portable, relatively inexpensive, and the procedures can be performed quickly. CAVS addresses this need for better measures of ultrasound data analysis and intravascular volume status. Its impact can also be expanded to areas with reduced resources, such as the developing world and military settings, where hemodynamic monitors are not common or feasible.
Advantages
Improves use of point-of-care ultrasound for patient treatment
Predicts which critical patients will respond positively to a fluid bolus
Stage of Development
This technology has been tested in a clinically relevant heterogeneous population of critically ill
---
Overview
Range uncertainty in the exact position of the distal dose gradient of a proton beam delivered within a patient during radiotherapy (RT) can lead to underdosing of the tumor or to excessive dosing to adjacent healthy tissues or critical organs at risk. The unwanted side effects and complications due this uncertainty is currently one of the key limitations to proton RT. UMB research is directed specifically to overcome this limitation by developing a system for measuring prompt gamma emissions from the treated tissue during proton delivery as a method to verify the in vivo beam range.  This system uses a Compton camera approach with reconstruction algorithms to determine the initial energy and directional information about an incident radiation (photon or particle) to produce a 3D image. Moreover, investigators have demonstrated that this system can produce images with high spatial and energy resolution without requiring complete energy absorption of the incident radiation within the Compton camera detector. This design provides a feasible path for an on board clinical imaging system to support emission guided RT that has yet to be resolved by other existing technologies, and would improve our ability to fully realize the advantages of proton RT and patient outcomes.
A second, emerging application of this technology is as a compact, portable imaging system for nuclear medicine applications such as PET and SPECT imaging. Feasibility studies have shown its potential as a portable PET scanner and initial design studies are now underway
Applications
Radiation Oncology
Medical Imaging
Theranostics
Radio-isotope monitoring/imaging
Advantages
Dose delivery verification solution
Real‐time monitoring of exposure areas
Compatible with current treatment delivery systems
Personalizes treatment regimens
Compact design
Stage of Development
Clinical camera prototype testing
Proton therapy delivery systems integration testing
Range verification software development
---
Overview
Perkinsus are intracellular parasites that cause disease in shellfish, especially bivalve molluscs. Its infection has devastated oyster populations along the US coasts. In addition to the economic value of shellfisheries, filter-feeding bivalves such as oysters play a critical role in maintaining water quality, making Perkinsus a serious threat to the economy and the health and integrity of the coastal ecosystem. Numerous attempts to controlDermo disease, a result of P. marinus infection, have been unsuccessful to date, partly due to a lack of information about fundamental aspects of P. marinus biology. UMB researchers have developed a transfection system for Perkinsozoa and created a stable, fluorescent mutant of P. marinus that expresses GFP. This transgenic organism can be used to study the mechanisms underlying P. marinus infection in bivalves, allowing for easier visualization and quantification.
Using optimized P. marinus culture methods, UMB researchers constructed a vector based on a highly expressed P. marinus gene tagged with GFP (pPmMOE-GFP). Under optimized transfection conditions, exogenous pPmMOE-GFP DNA was introduced into P. marinus trophozoites by electroporationwith a robust efficiency of transfection of ~38%.  Fluorescence can be detected starting 14 hours after electroporation and stably expressed for longer than 8 months. The visualization allows researchers to study its location, growth rate, and proliferation.    
Applications
Bivalves such as oysters are important both ecologically and economically. As the causing agent of Dermo disease in oysters, P. marinus has caused mass mortality of Eastern oysters commonly cultured and wild-harvested as food species. Found along the eastern coast of the USA, from Maine to Florida, the presence of this parasite has severely reduced the abundance and productivity of oysters, particularly that of Crassostrea virginica. In the Mid-Atlantic region, P. marinus  is responsible for a decrease of at least two-thirds of the surplus production available to fisheries. GFP-labeled P. marinus can help better understand the biology behind itsinfection and assist in identifying successful intervention strategies to curb it, both crucial to protecting the ecosystem and aquaculture industries.
Advantages
GFP-tagged P. marinus allows easier visualization and quantification of infection in bivalves
GFP-expression is induced early and stably, lasting longer than 8 months
Stage of Development
pPmMOE-GFP-tagged P. marinus has been tested in vivo, where PmMOE-GFP is expressed with a strong concentration in the inner lining of the plasma membrane.
---
Overview
The main cause of death during influenza pandemics is Streptococcus pneumoniae co-infection, which results in hyperinflammatory response leading to sepsis. While the exact mechanism behind this complication is not understood, influenza infection predisposes patients to pneumococcal pneumonia that often progresses to uncontrolled hypercytokinemia. The cellular response to influenza and streptococcal co-infection is varied, involving innate and adaptive immune mechanisms. Galectins, glycan-binding proteins, are involved in the innate immune response to pneumococcal infection, immune homeostasis, and in the recognition of glycans on viral and bacterial surfaces. UMB researchers have demonstrated that the activity of Galectin 3 (Gal3) at the airway epithelial surface modulates intracellular pathways that lead to the dysregulated expression and release of pro-inflammatory cytokines. As such, disruption of the binding of Gal3 to the airway epithelial surface can prevent and treat the ensuing pro-inflammatory response and the development of sepsis and septic shock. To this end, they have developed novel Thomsen-Friedenreich multivalent lactose-based and cyclodextrin-based synthetic inhibitors of GaI3.
Novel, Gal3 inhibitors include synthetic multivalent neoglycoproteins such as glycopeptides rich in Thomsen-Friedenreich disaccharide and multivalent lactose-based compounds. Several synthetic multivalent inhibitors have been designed, validated, and shown to block the binding of Gal3 to its carbohydrate ligands. A glycopeptide rich in Thomsen-Friedenreich disaccharide has also been designed and tested. This compound was found to effectively inhibit Gal3-mediated cell adhesion with picomolar affinity.
Applications
During the 2015-2016 flu season, there were an estimated 310,000 people hospitalized for flu-related illness. Although the majority of deaths with typical seasonal influenza are estimated to occur in elderly subjects (80% are age 65 or older), most recent pandemic strains have had extensive morbidity in younger individuals. The 2009 H1N1 pandemic resulted in 64-96% of pediatric and adult patients admitted to ICUs requiring mechanical ventilation. Among hospitalized flu patients in the US, sepsis is associated with a 20-30% risk of death. Current treatments for influenza-associated sepsis are predominantly supportive- broad-spectrum antibiotics, fluids, oxygen, blood transfusion, and organ support as needed. There are no approved targeted therapies. The prevention and early identification (and therefore treatment) of sepsis in vulnerable patients, such as those with influenza and streptococcal infections, would greatly decrease these healthcare costs. It has been estimated that if the US achieved earlier sepsis identification and evidence-based treatment, there would be 92,000 fewer deaths annually, 1.25 million fewer hospital days annually, and reductions in hospital expenditures of over $1.5 billion.
Advantages
Novel inhibitors avoid immunogenicity
Increased galectin binding affinity
Stage of Development
The inhibition of Gal3 binding by these novel inhibitors has been tested in immobilized adenocarcinomic human alveolar basal epithelial cells (A549) and a prostate cancer cell line (PC3).
---
Overview
Bipedal standing balance is inherently unstable and must be actively controlled to prevent falling. This involves a complex interaction of the sensorimotor system and multi-segment musculoskeletal system. Fall risk increases with deterioration of sensorimotor and musculoskeletal elements responsible for balance due to age, neurological disorders, disease, and injury. The Balanced Reach Control System (BRCS) is a novel model to quantify whole body, volitional balance control during specific functional balance tasks. BRCS allows the quantification of fall risk so that effective fall prevention treatments may be developed for the patient.
The BRCS breaks down the reaching human into five interacting components: 1) supra-brain stem processes, 2) brain stem and spinal cord processes, 3) the reaching body, 4) sensory modalities involved in balance and the higher level processes that integrate their signals to predict the body's state of balance, and 5) feed-forward sensorimotor delays and noise. The BRCS Model functions as a diagnostic instrument to assess stand and reach and step and reach balance tasks. It incorporates a 3D, 14 segment biomechanical model to represent the reaching body, allowing precise quantification of the performance characteristics of the reaching body as a whole as well as each component of the reaching motion. 
Advantages
Enables precise quantification of the whole body and parts performance characteristics during a reach balance test
Guides rehabilitation intervention decisions to target specific deficits
Can serve as an out-of-balance warning device and/or as a real-time controller
Stage of Development
The biomechanical model of the reaching body has been completely developed and tested in 38 young and healthy adults, showing robust measurement qualities and ability to quantify error at any of the 13 body segments (excluding the eyes), bilaterally, across 5 different levels of difficulty that represent the limits of human standing balanced reach performance. This represents the critical foundational validation and reliability. Further development of the remaining components of the model are ongoing and include testing in selected clinical populations and across the age spectrum. This will provide new normative data in health and disease across aging. Currently, this work is underway with older adults at low and high fall-risk, and individuals with selected medical conditions known to impair their
---
Background
New water treatment technologies need to be developed that will not only remove contaminant compounds and industrial pollutants but degrade them to non-harmful constituents. Although water purification technologies exist they each have drawbacks including the inability to remove all classes of organics, nitrates, etc. For example, chlorination, used as an oxidant, could also produce chlorinated by-products that could be more dangerous than the original contaminant. Chlorination is also not effective against certain bacteria. Carbon is known to absorb the contaminants but does not degrade them. Polymer based membranes while effective does need significant maintenance thereby causing reduction in lifetime as well as increased downtime.
Photocatalysis provides an efficient path to oxidize organic compounds – the most common photocatalyst material being Titanium Dioxide (TiO2). The challenges with TiO2 are:
Requires UV activation and therefore ineffective if sunlight is used as the UV source.
TiO2 has lower surface area limiting the efficiency of radical formation.
Current Invention
Prof. David Kisailus and his team have developed a novel, high surface area photocatalyst – Tantalum Nitride(Ta3N5) hollow nano or microspheres. The associated process enables the formation of tunable sized, high surface area that consist of oriented nanoparticles on the periphery of the spheres.

Schematic illustration of the two-step synthesis of Ta3N5 hollow nanospheres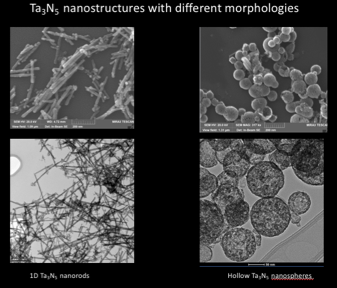 Ta3N5 nanostructures with different morphologies including nanorods.
---